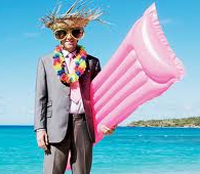 In the past few weeks I had heard from a number of friends of mine who have lost their jobs. All of them were irritated &frustrated. Yes, they have a right to be and a few of them were blind-sided, confused and shocked. All of them were very upset! My advice to all of them was the same.
Take a two week vacation! Read a book, go to the gym, go visit your parents and complete all those little projects that all of us put off BUT don't start your job search! Don't call your contacts and don't reach out to anyone. In my opinion it won't do any good. As I was sitting across from a number of people who were in transition, I could easily see the pain on their face which was way too fresh to move forward! I truly believe the best advice is to do nothing, try and get over some of the pain, accept what happened and then move forward.
And in my opinion that takes a few weeks.
Is that the advice you would give?
What other advice do you give?
I look forward to reading your comments.