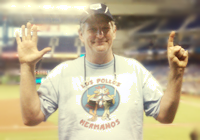 As regular readers of this blog know, I am a very passionate baseball fan. This past September I reached a personal milestone, as I attended games at Yankee Stadium and Marlins Park. This meant that for the second time in my life, I could boast having seen at least one game at all 30 major league ballparks, for a lifetime total of 51 MLB parks. I had previously accomplished this goal back in the summer of 2005, but subsequently St. Louis, Minnesota, Washington DC and both teams in New York erected new "Fields of Dreams" for me to seek out and enjoy. Slowly but surely I was able to find my way to these five ballparks and once again "evened out the ledger."
But little did I know that my visits to ballparks #50 and #51 would provide me with a lifetime of memories and underscore the old adage that the beauty of baseball is you never know what you're going to see when you attend a game.
Ballpark #50 was on Tuesday, September 24th at Yankee Stadium. Joining me that evening were JB and MG (thanks MG for securing great seats). What should have been a tight battle for a playoff berth between the Tampa Bay Rays and the Yankees, turned out to be the greatest promotion fiasco in baseball since Bill Veeck's 1977 Disco Demolition Night in Chicago. If you are unaware of what happened that night in the Bronx, click here for the full story.
I am not sure what was more satisfying, having the Bronx Bombers lose 7-0 or witnessing thousands of adult Yankee fans having meltdowns as they had to wait in line for over two hours for a 10 cent plastic figurine.
Ballpark #51 was five days later at Marlins Park, as the hometown Marlins played host to the Detroit Tigers. Thanks to Victor C. I had a fabulous seat, 12 rows behind the Miami dugout. Other than this being the first time an inter league game was being played on the last day of the regular season, it was a match up with no major significance. The Tigers were resting up for their post season run and the Marlins were closing down a 100 loss season. Two hours and six minutes after Marlins pitcher Henderson Alvarez threw his first pitch, he had notched the first no-hitter on the final day of a regular season game since 1984, as well as the first solo no-hitter that ended on a walk-off run since 1952. To make it even more bizarre the winning run came in on a wild pitch, with the bases loaded, two outs, while Alvarez was standing in the on-deck circle, bat in hand, hoping to complete his no-hitter.
Weeks later these two games are still making me smile, laugh and feel like there is no greater sport known to mankind than baseball.
I am curious to know:
Do you have similar dreams of visiting every MLB park, NFL stadium, NBA/NHL arena, NASCAR track or prominent NCAA venue?
Have you been able to attend a game at every MLB park, NFL stadium, NBA/NHL arena, NASCAR track or prominent NCAA venue?
What is the most bizarre and unexpected thing that you have witnessed at a baseball game or any other major sporting event?
Is it worth two plus hours of your life to wait in line for a bobble head doll or any other promotional item?
I look forward to your dreams, memories and comments.