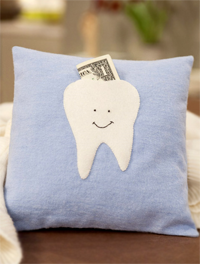 A few weeks ago my daughter was very excited to show me the new gap in her mouth and the tooth that fell from it. She was so cute, beaming with excitement that the tooth fairy was going to come that night after she had fallen asleep.
Magically that is exactly what happened after leaving the door open to the house the tooth fairy was able to go up to her room and replace the tooth with a crisp $1.00 bill.
It's funny that everything in the world has increased in price but I recall getting the same crisp $1.00 bill when I lost a tooth decades ago.
Does the tooth fairy come to your house?
Do they leave $1.00 or more?
Do they leave something other than money?
When does the tooth fairy not stop by anymore?
I look forward to reading your thoughts.