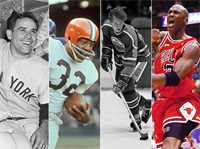 I am a pro athlete. I give everything I have and leave it all on the diamond / court / field / rink. My name is _____.
I will start the list:
Dick Butkus – one of the most intense football players of all time. He appeared to play hard on every single play and looked so intense. Hated to lose.
Derek Jeter – wants to play every inning of every game. Understands what it means to be the face of the NY Yankees. Makes everyone around him better!
Dirk Nowitzk – I am sure lots of people are surprised by my choice but he really is a taller version of Larry Bird. He looks like he LOVES to play basketball. Always trying to get better. Very intense, quiet player who is the ultimate professional. He is a very special player.
There are the first three.
What do you think of my choices?
I look forward to reading your comments.