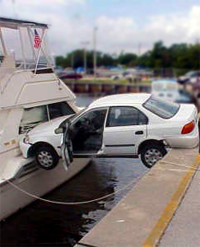 A few weeks ago I was sitting on a plane and was reading USA Today. One of the articles I was reading was discussing what state has the worst drivers in it. For years I have always been told that I am a horrible driver, probably for good reason but in the same breath everyone says that the drivers in Massachusetts, New York and Pennsylvania are the worst. In fact they believe they are the worst in the country.
Well according to The CarInsuranceComparison.com report, my home state doesn't make the top 10 worst driving states. For its worst drivers rankings, the website compiles data on fatality rates per 100 million miles traveled, citations for failure to obey traffic signals and seat belt laws, DUI infractions, and tickets for speeding and careless driving. It collects data from the National Highway Traffic Safety Administration, the National Motorists Association and MADD.
Here are the states with the worst drivers:
1. Louisiana
2. South Carolina
3. Mississippi
4. Texas
5. Alabama
6. Florida
7. Missouri (tie)
7. North Carolina (tie)
9. Montana
10. North Dakota
I was shocked to see no states from the northeast. I would have assumed that Florida would make the list since so many people retire there and as they get a little older, their driving skills diminish. Amazing to see that Texas is number 4 – are you serious? Wow! Texas is worse than my home state of Massachusetts.
What do you think of the list?
What surprises did you see?
If you hadn't seen the list, what states would you think be on the list?
I look forward to reading your comments.