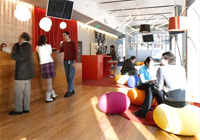 I just read an article on Mashable that shared the 7 best tech companies to work for. The list and benefits were different and interesting depending on the company. It got me thinking about what I truly believe makes a company great to work for. For me it is a number of things. It isn't the foosball table or the free lunch which I have had in the past. To me it is the atmosphere of the team. Is the environment team oriented? Is there a company culture to have your voice heard? Does the company welcome and more importantly embrace change?
I truly don't believe it is about the money, vacation days but rather the company culture.
What makes a company great to work for?
Do most companies have it?
I look forward to reading your comments.