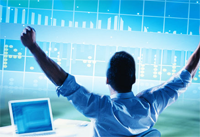 First of all, congratulations to Scott Cairey whose stock pick, SunPower Corporation (SPWR) went from $5.62 to $29.74 – an increase of 429%. For winning the contest, Scott will receive $300.00.
2013 was an interesting year for stocks. The average stock went up by 46% while 65 stocks went up and 24 went down.
To participate in the 2014 contest, here is what you need to do:
Respond to the blog with your stock name and symbol.
State the reason why you picked the stock you did. It's as simple as that. We'll do the rest.
A few things to remember:
You need to respond by 7:00 PM CST January 24, 2014.
You can only have one entry.
The stock price needs to be at least $1.00 – anything less will not be accepted into the contest.
Only one person can have a particular stock, so the person who responds first gets the pick and we will notify anyone who has a duplicate stock.
If a stock splits, we will make the necessary calculation and adjustment.
If the company you pick gets acquired during the year and their company doesn't have their own stock price, you won't be counted in the contest.
We will use the closing stock price the day you make your pick.
A link to the leaderboard will be posted in the top right corner of the blog.
First prize will be $300.00 for the person whose stock goes up the highest percentage in 2014.
I will get the ball rolling with my choice for the 2014 contest: Gamestop (GME). With all the games I buy for my kids, the stock has to go up in 2014!
Take the stock challenge of 2014! Get your entries in today!
Again, the deadline is 7:00 PM CST, January 24.
Good luck to all!!