As a season ticket holder of the Dallas Mavericks, I receive a lot of communication. Discounts, change of times and general messages have been very common in the past. This year it is a little different. Mark Cuban & the Dallas Mavericks have added a pre and post-game email. And not just any email – an infographic. It is a nice well-positioned, clean-looking graphic filled with a ton of information.
Here is an example of one of them: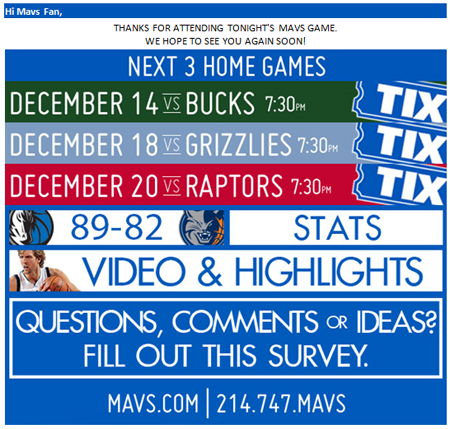 I must say I really like it! Not because I don't get enough email but because I am a fan and like a quick update. Also, I really dislike text heavy messages and feel they don't get their point across.
This gets the point across in a very easy to read, easy to understand way! It also shows me that the Mavericks have been able to incorporate new technology into their marketing – nicely done!
Have you seen other sports teams use infographics?
Do you like what the Dallas Mavericks are doing?
Do you think future ads for retail stores will be infographics?
Have you seen a lot of companies using infographics to present data in the research industry?
Do you think that infographics will have a bigger place in 2014?
Look forward to reading your comments.