Archive for February, 2014
Wednesday, February 26th, 2014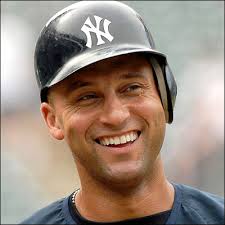 Admittedly, I don't like writing blog posts about the New York Yankees or their players…but Derek Jeter is different. As you know, I love baseball. I love the strategy, the competition, the drama and I love when the game is played with the right sentiment. I will never forget being in old Yankee Stadium on a hot, steamy July night and watching Derek Jeter dive head-first into the stands, making an incredible catch! Even I cheered for that.
All I can say is: Derek Jeter played the game the way it is intended to be played and he shows class both on and off the field. Even as he announced his retirement, he showed class
How do you feel about Derek Jeter?
How is Derek Jeter most memorable to you?
Have you ever met Derek Jeter?
I look forward to reading your comments.