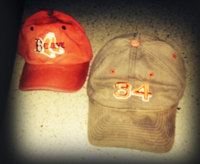 I still like wearing baseball hats when I play sports, when I am attending a sporting event or when I haven't showered and my hair is a mess. The problem is two of my favorite hats have sweat stains on them and I can't get them out. I have tried washing them but that doesn't seem to work. Help… any ideas?
Any secret ideas that can help me get the stains out?
Is it time to just throw them away?
Only wear them when I paint… Which by the way is never!
Please help…
I look forward to reading your comments.