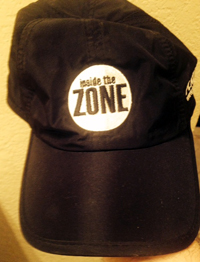 After working out a few weeks ago I took a quick shower and was getting ready to go to the movies (with AVS) and see Jack Ryan: Shadow Recruit. As I was getting dressed my hair was still wet so I grabbed a hat and the one I chose was Inside The Zone, a company that a buddy (R.P) owns.
As I was walking out the door I started to think about what "Inside the Zone" means to me and when I'm truly "Inside the Zone"?
To me "Inside the Zone" means that I am totally focused on what I am doing. Trust me, for someone who is certainly ADD, that is very hard. I am really concentrated on a situation at hand and nothing else matters. I am giving it my all, the attention that it deserves and hopefully the result I want.
The places that I tend to be Inside the Zone:
A company offsite strategy session
During one of my presentation on stage at a conference
Playing sports especially with my friends
Ok your turn:
What does "Inside the Zone" mean to you?
When are you truly "Inside the Zone"?
I look forward to reading your comments.