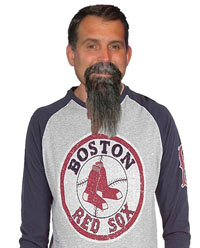 Lots of fans are crazy for their sports teams. I know people who have named their pets after their teams, paint their face on game day, tailgate for hours before the big game even get a tattoo with their sports team.
Last year was the year of the beard for the world champion Boston Red Sox – and as the picture indicates I did my part.
What have you done to support your team?
Do you always wear your favorite shirt?
Do you bring a big sign into the stadium?
Do you wear your button collection as a sign of loyalty?
Have you ever pained your face?
I look forward to seeing how you support you team and, frankly, the crazier the better!