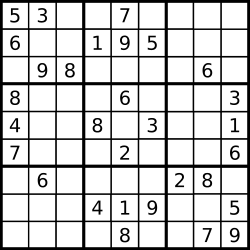 Probably like most, I enjoy trying to tackle a Sudoku from time to time. I like the challenge, strategy and actually like to time myself to see how long it takes to complete one. Over the years I have probably done hundreds. I must admit, there is another reason I like Sudoku and it isn't trying to complete them myself, but rather, it's having a new hire candidate attempt to complete one.
I realize that many of you think this sounds crazy but please let me explain the process and the reasons why:
After speaking to a candidate for 15-20 minutes I will tell them that I have something I'd like them to do. I give them an easy Sudoku and ask them to tackle as much as they can in 5 minutes.
Here is my logic:
Business is all about surprises and I want to see how they handle doing something that they didn't expect
I like to see how analytical they are in their approach to the puzzle
I want to see if they hesitate with the request and if so, how much?
If they don't know how to do Sudoku, I'm able to explain and see how quick they learn
For me, it isn't about how far they get with the puzzle; it's about the process, their attitude and their willingness to do it.
What do you think of the idea?
Have you ever tried to have a candidate to do something like this?
If you were interviewing and someone asked you to do it what would you think?
I look forward to reading your comments.