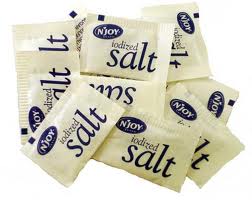 Last month, I had my teeth cleaned. Before we started that fun process the hygienist had to take X-rays (6 to be exact). She tried a number of times with the same outcome: For whatever reason, I physically couldn't do it, something about the process was making me gag. I can't recall ever having this issue before but on that day, I couldn't overcome it. She decided to clean my teeth and try the X-rays after she was finished.
At the end of the cleaning, she called in reinforcements (presumably to pin me down and get me to be more cooperative). Another hygienist came in and said that she was going to try something that's a little different but always successful in solving the problem. She actually took a packet of salt and put a little of it on my tongue. Apparently doing this tricks a number of your senses to detect taste and draws attention away from the other heightened senses, which solves the X-ray problem! I must admit I wasn't sure if it would work but, low and behold, she was 100% right. She got the X-rays and I was out of there (thankfully) a minute later!
Have you ever heard about this salt trick?
Do you have trouble with X-rays at the dentist?
Does your hygienist help to make them easier for you?

I look forward to reading your comments.