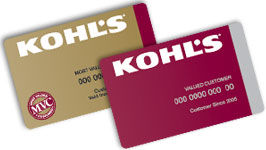 A few weeks ago, I was out shopping early on a Sunday morning. One of the stops I made was at Kohl's; I enjoy shopping there, I like the layout and cleanliness of the store. After I picked up a number of items to buy I was greeted at the register by a friendly lady named Minnie. Minnie was very nice and as she was folding my clothes she asked if I wanted to sign up for a Kohl's card and save 20% on my purchase. When I respectfully declined, her response surprised me; She said "What if I could save you 30% today?" Since she had counter-offered with me, I asked if she could do 40%? She laughed and told me that she wasn't able to authorize a discount over 30%. Since nobody was in line behind me, we engaged in an in-depth discussion about the sales process. Turns out, Each cashier has a goal of 3 new accounts a day and are paid $1.50 for each one they open. Additionally, they can increase to a 30% discount to entice people to open up a new account.
I have shopped at Kohl's many times but I never had been offered a different discount. I did decide to take the offer…which saved me $47.00!
What do you think about this business practice?
Would you have taken the increased discount offer?
Have you ever had an offer like this presented to you at a store?
Do you think this trend will grow with other retail stores in the future?