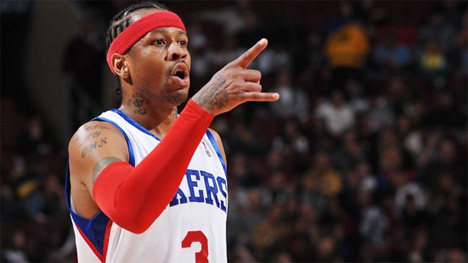 Yes, I watch a lot of sports. Yes, I pay attention to what the athletes wear. Yes, I notice logos, sneakers, arm guards, goggles and…yes, arm sleeves!
Many NBA & college basketball players wear arm sleeves. My question at first is why do they wear them? What's the point? What does it do? Well, I googled that exact question and here is what I learned:
"Allen Iverson first started wearing the now famous arm sleeve in the 2000-2001 NBA season after elbow surgery. The compression from the arm sleeve kept the muscles in Iverson's elbow and arm warm and flexible, lessening the chance for further injury."
Growing up at Fenway Park, I always saw (and still do see) pitchers wearing warm up jackets or with a towel on their pitching arm to keep to keep it warm. Why don't baseball players wear a sleeve on their arm and call it a pitching sleeve?! Perhaps something like this exists and I'm just not aware of it. Also, what about tennis players who constantly are moving but rest between games during sets and court changes? Why not a tennis sleeve?
Am I missing something?
Is the real purpose of an arm sleeve to actually keep the arm warm or is it really just for fashion?
Why don't pro tennis and baseball players wear a sleeve?
Do you wear a sleeve when you play sports?
If you do wear a sleeve, do you notice a difference in your performance or is it just for aesthetic value?

I look forward to reading your comments