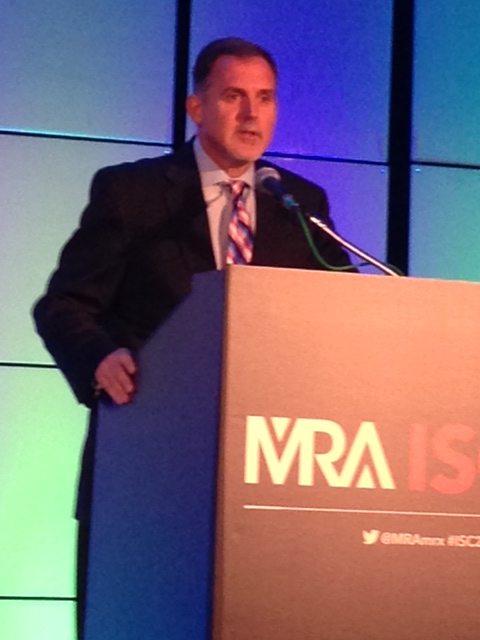 Last week, I received the Meritorious Service to Marketing Research Award from the Marketing Research Association at their annual conference in Chicago. The purpose of the Meritorious Service to Marketing Research is to recognize an individual who has, over the span of their career, demonstrated tremendous leadership, dedication, and whose commitment has led to remarkable contributions the marketing research industry.
I must say, I was surprised when I found out and now, a week later, I am still on cloud nine. This has been a fantastic journey that has spanned over 30 years. I started in the Market Research industry as an interviewer and actually did door-to-door interviewing…that's how old I am!!
Although I stood on the stage alone to receive the award, my presence also represented the many people who have helped me along the way. Marianne Schafer, John Boni, Sandy Schwartz & Jim Fredrickson were all great teachers. Each of them offered a different contribution to my success, each provided tools that they knew I would need, they brought the best out of me and pushed me when I needed it the most! My respect for each of them is second to none!
My parents are huge supporters of mine; they taught my two sisters and me an amazing amount and they allowed us to make mistakes (plenty in my case) along the way and learn from each and every one of them.
For over 3 decades, I have had the privilege of associating with and learning from some of the smartest, most talented, creative, passionate researchers and business leaders that this industry has to offer. That list includes (but, of course, is not limited to)
Amy Shields
Colleen Moore Mezler
Craig Stevens
Debbie Schlesinger
Ed Sugar
Elisa Galloway
Jane Cook
Janet Savoie
Ken Roberts
Larry Gulledge
Lori Young
Merrill Shugoll
Michael Halberstam
Michael Mermelstein
Mimi Nichols
Steve Schlesinger
THANK YOU SO MUCH!!
Some of the words that Jill Donahue used to describe me (thank you for all the very kind words) were that I am "always there to help, being a mentor to many and always giving back". To me, it is always very easy to give back to an industry that has given me so much! I love the Market Research industry and I want to thank each of you for making it my home for the past 30+ years and please know there is no other industry or place I would rather be!