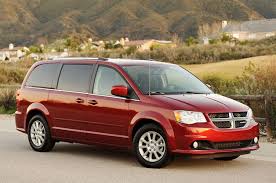 Last month, I was sitting in a restaurant with a buddy of mine (E.S.) when a women walked in and asked if I was the owner of a Ford Explorer in the parking lot. After a short pause and a skeptical "yes" response from me, she proceeded to tell me that she was very sorry for hitting my PARKED car. I must admit, I was really impressed that she came in to let me know because I am not sure how many people would have done that. This post actually isn't about that…it's actually about the car that I was given while mine was in the shop being repaired.
My friends at Enterprise Rent A Car didn't have a lot of choices available for rental, so it was either a very small car or a minivan. Well, since my kids tend to get irritated with each other within a millisecond of being in a small car…I took the minivan. I have to say: It had a ton of room, was very easy to get in and out of and it had a little bit of pep to it!
My questions today are:
Have you ever had a minivan?
Did you like the experience?
Do you have a minivan right now?
Would you own a minivan in the future?

I look forward to reading your comments!