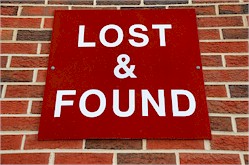 Okay, let me start by saying: I am getting older and with that (for me) I'm also getting a little bit more forgetful. Recently, I left a few things in my rental car and remembered later that night after dropping it off. The items were actually: a suit, shirt and a pair of socks. As luck would have it Enterprise found the stuff and couldn't have been nicer about it. I actually picked it up the next day (the rental was in Dallas) so that problem was solved very easily.
This led me to think back about the other things that I have left behind, misplaced or frankly…lost. So, I ask you:
Are you getting a little more forgetful?
What was the last item that you lost but finally found?
What is the most expensive item you've ever lost permanently?

I look forward to reading your comments!