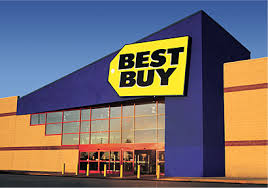 A few weeks ago, I was at a Best Buy with my oldest son J.D. buying some mindless movies (for the record: they were for me, not for him) and as we approached the checkout counter I noticed another end cap that had some additional, not-so-stellar movie choices, which, of course is right up my alley. As Lawrence (the cashier) was ringing me up he said my total was $61 and I asked if I could add one more movie. He agreed and said that my new total was $85. I finished chatting with my son and told Lawrence that I didn't believe the total was correct, Lawrence kind of looked at me with an odd look, so I told him that my reasoning was that my original total was $61 and I added a movie which made my new total was $85 but, I turned and pointed to the sign, which was directly behind me, showing Lawrence that the end cap price clearly said, "Blue Ray $14.99 and DVD $9.99". Based on those calculations, I didn't see how the total could be correct. Lawrence tried hard to fix it but ultimately had to call his manager who came over quickly and did whatever she did to override the system. As she was walking away, she asked Lawrence to take down the current price tag from that end cap. Lawrence took down the price tag, finished our transaction and we were on our way.
In the past month, I have been really teaching my son about business, strategy and lots of other things and this was another perfect example that I could drive a point home. As I was leaving the store, I asked my son what he thought about what just happened (I'm sure every reader is excited that they aren't related to me and don't have to endure all these stories). He wasn't really sure what to say. So I mentioned a few things. If you want to be successful in business you need to pay attention to details and don't just do your job, BUT also think about doing your job!
He understood the detail part very quickly. We reviewed what happened and how Lawrence did a nice job listening to the supervisor but didn't really think about doing his job. The reason I say that is: He was told to take down the sign that was wrong…which he did. What was left said: "Blue Ray $24.99 and DVD $9.99". That makes no sense. There is no chance that was right. Both signs, which were sitting next to each other, were wrong. What should have happened is Lawrence should have also checked or mentioned to the supervisor that the DVD price was wrong as well. If he had, he would have changed it as opposed to having another issue or charging the wrong price to a future customer.
What do you think about what Lawrence did?
Did Lawrence pay attention to the details?
Should the supervisor have done something differently?
What does it mean to think about doing your job rather than just doing your job?
I look forward to reading your comments and sharing them with my son!