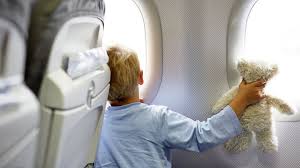 A few weeks ago I was at the airport waiting to board my flight and looked at the next gate, which was boarding, and counted: At least ½ the people getting on the plane had some type of favorite article they like to travel with! Notably: a blanket, stuffed animal or pillow.
The interesting thing was: they were all different ages. So, I ask you: Do you take flight with your:
Favorite stuffed animal
Special blanket
Pillow
Some other item?
What is the funniest personal item you have ever seen someone get on the plane with?

I look forward to reading your comments!

PS: I don't travel with any of those items but I always do have water and headphones out.