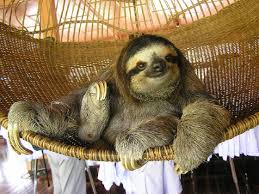 A few weeks ago on a Saturday I was kind of lazy (after making lunch, doing laundry, working out, showering and probably 10 other things) and asked my daughter if she wanted to watch TV. She did and as we cuddled in my bedroom I asked her what she wanted to watch. We flipped around for 30 seconds and she said wanted to watch "Meet the Sloths". Never having heard of the program, I told her that I thought "Sloths" was kind of an odd name for a family. She looked at me with a puzzled look and said, "Dad…the sloth is an animal not humans". I knew that, but I didn't realize there was a show on TV about them.
Anyway, "Meet The Sloths" is on the Discovery Channel and really cool and very interesting. The show follows a year in the life of five Sloths who live in the Sloth Sanctuary of Costa Rica, a sanctuary dedicated to saving orphaned or injured sloths. I really enjoyed the program and now kind of have a favorite sloth from the show! (please stop laughing).
So here is a thought for you: Not sure what to watch on TV? I say cuddle with the kids and let them choose! Its only an hour out of your life and my sense is you will love the experience!
Have you tried this before?
Do you already watch certain programs with your kids?
Do you think you would try this?
I look forward to reading your comments!