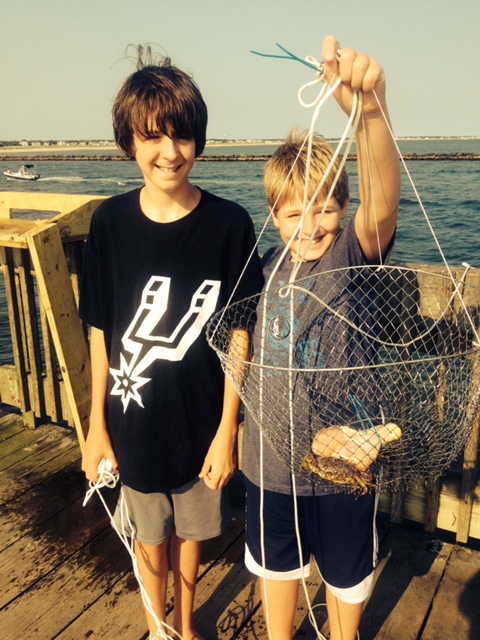 Last summer, I was with my kids visiting my family in Cape Cod and had an amazing time. One of the things we did was walk the beach really early in the morning. I was with my boys, we had finished our walk and ended up on a pier with a bunch of fisherman, all of different ages. As usual, Riley (Mr. Inquisitive), walked away and started talking to someone. The next thing I knew, he was fishing with them and catching a few crabs and sand sharks. In fact, the picture of him below, he's holding two of his prized catches, which in a few years will be staring in the movie "Jaws".
The people who showed Riley how to crab actually left 30 minutes later and gave him everything: The bait, the net, the hook and most importantly, a lesson on how to do it. They asked that when we were done to please "Pay it Forward". We have all heard that term but I wasn't sure if my kids really knew what it meant. I explained to them that to "Pay it Forward" means as a response to someone's kindness to you, you need to be kind to someone else.
When my boys were done fishing, they were excited to "Pay it Forward" and they found a young girl to give all of their materials to.
When was the last time you did "Pay it Forward"?
How often do you try to "Pay it Forward"?
PS: Something I like to do to "Pay it Forward" is to anonymously buy breakfast or lunch for someone in the military at the airport.
I look forward to reading your comments!