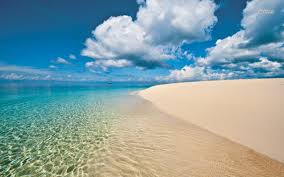 I love to travel and I love the beach! I love everything about the beach: the warm sand, the beautiful blue water, people smiling, sand volleyball – in fact there is very little I DON'T like about the beach.I was reading an article a few weeks ago that listed the top 10 beaches in the world according to TripAdvisor and its users.
The Top Beaches, located around the globe, are "determined based on the quantity and quality of traveler reviews and ratings over the course of 12 months", according to the site.
Here they are!
Elafonissi Beach: Elafonissi, Greece
Whitehaven Beach: Whitsunday Islands, Australia
Flamenco Beach:Culebra, Puerto Rico
White Beach:Boracay, Philippines
Anse Lazio:Praslin Island, Seychelles
Playa de Ses Illetes:Formentera, Spain
Playa Paraiso:Cayo Largo, Cuba
Rabbit Beach:Lampedusa, Italy
Grace Bay:Providenciales, Turks and Caicos
Baia do Sancho:Fernando de Noronha, Brazil
The interesting thing about their list is…I haven't be to a single one of these beaches! Not one!
What do you think of their list?
Have you been to any of these beaches?
What is the nicest beach you have ever been to?
I look forward to reading your comments!