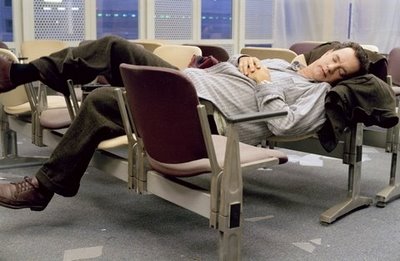 Earlier in the week, I was flying back from California and thought it would be a wonderful idea to maximize my time and take the red eye back to Dallas. Which meant I arrived around 5:30am in Dallas after being on a flight for 3+ hours. I must admit, I used to do that all the time and loved it, especially for longer flights. But, as I get older, Sorry–more experienced–I don't love it as much.
I had just co-chaired a conference and mentally I was pretty tired. I arrived at the airport earlier than usual and I had about 2 ½ hours before takeoff. Thankfully, there was an Admirals club to pass the time and help with some comfort: recharging electronics, nicer restrooms and a 4-5 chairs that were unoccupied that I could use as a makeshift bed. I was listening to music and the next thing I knew I was woken up by someone who worked in the club. They asked me if I was on the Dallas flight. Through my fogginess I said something (not sure what it was) and the next thing I knew I was in a sprint to get to my gate and was the last person to board before they slammed the door shut.
Apparently, I had fallen asleep in the Admirals club and almost missed my flight!
Of course, this cute and funny story leads to a blog and questions!
Where is the funniest place you have fallen asleep?
Have you done the same thing and almost missed a flight?
Or worse…did you actually miss the flight?
Have you slept in your car after a challenging night?

I look forward to reading your comments and funny stories.