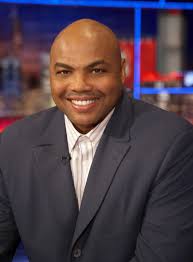 Let me start by saying: I love Charles Barkley. I think he is smart, witty and has a fantastic personality.
Having said all of that, he is also a man that will:
Say anything!
To anyone!
At any time!
And doesn't care who is listening or who it may offend!
Some people said, "Well that's just Charles" when he insulted all of the "big ol' women" of San Antonio last year during the NBA finals and they said it again a few weeks ago when he said he didn't "believe in analytics" and pretty much made fun of people and teams who use analytics in sports. Charles is very smart (off-the-chart smart if you ask me) So, I would imagine that some of what he does is for publicity, to keep up his image, or for some sort of audience reaction. I have a feeling that if Charles Barkley still wants to be an analyst in 10 years…the opportunity may not be there for him. The reason is: eventually I think he will say something at the wrong time to the wrong person which will spread like wildfire and force TNT or the networks to suspend or fire him.
Again, I like Charles! Clearly, I don't want that to happen to him, but I just can't see how it won't.
What do you think?
Do you agree with me?
Are you a fan of Charles Barkley?
Did you like him as a player?
I look forward to reading your comments.