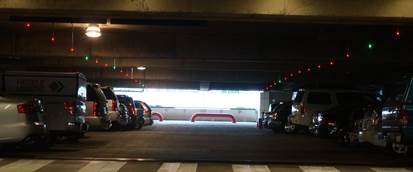 Does this sounds familiar? You're at the airport driving around looking for a parking spot and with each second that passes you are getting a little more aggravated & irritated. A few minutes pass by and now you are dizzy from driving around in circles and concerned about missing your flight! Sound familiar?
So now you can look down a long row of parking spaces and know, without having to drive the row, if there's a free parking space! If the light above the space is red, it's occupied. If you see a green light, head on down there and the space is yours!"
I think this is truly brilliant!
What do you think?
Have you seen this system at any other airports or shopping malls?
Have you seen any other systems that solve this problem as well?

I look forward to reading your comments!