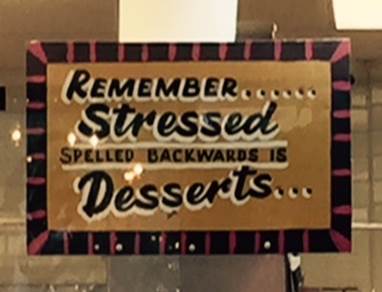 A few weeks ago I was in a Florida bakery and noticed a very cute sign…Remember stressed spelled backwards means desserts. After chuckling for a few seconds I started to think about other words that when spelled backwards meant something else, and then I thought there had to be a word for words like that and of course there is which is Semordnilap – which means exactly what I thought….. A word or name that spells a different word backwards.
So let's try and build a list of these types of words – I will start the ball rolling with a few:
Pals and Slap
Star and Rats

Do you know any Semordnilaps?

I look forward to reading your comments!