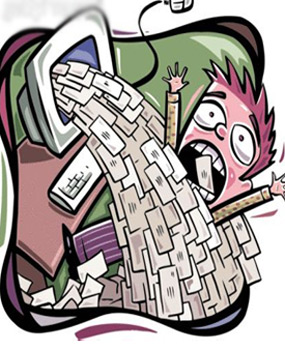 Like you I get a ton of emails a day. Probably north of 200. Included in that number are probably 40+ that are unwanted and unread. The question is how does an email get thru the clutter? Catch my eye? Well here is one that did and I'm here to tell you why.
To start with, the email didn't say sir or madam and actually did spell my name right. Believe me that helps! Also it was short, 114 words, and was 100% customized to me! He knew we advertised in Marketing News but he also knew I was involved with Baylor and that I moved to Texas. All of that means he did his homework and too many emails don't. They are all about quantity and not quality!
Please let me know what you think of Justin's email?
Subject: AMA MARC Profile – Networking
Merrill –
My name is Justin Horner, and I just ran across your company's profile in the AMA Marketing News magazine sent out this month. I recently moved back to Dallas to run the marketing and sales operations for a local production company and was wondering if you had some time to grab coffee or lunch, my treat. I would love to hear about your journey to Texas, how you got involved with my alma mater Baylor, and any advice you may have regarding marketing /networking in Dallas.
Let me know a time that works best for you over the next few weeks, and I can make it work. Thanks for your time.
Best regards,
Justin Horner / PCS Production Company / Marketing Director
How does an email get thru your clutter and catch your eye?
I look forward to hearing your comments.
P.S. – I will be meeting with Justin but I will be treating him! Nice job Justin!