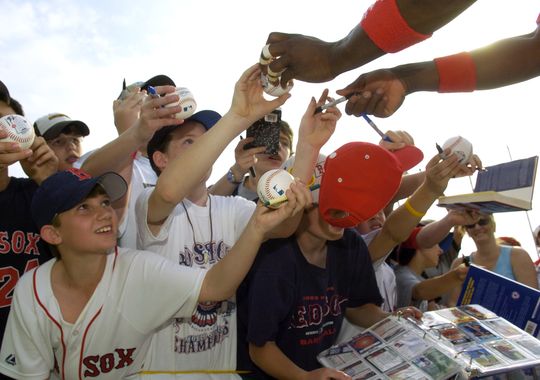 I am sorry if you thought today's blog was a request for you to send me your autograph because it really wasn't. It is more of a question about if you ask or have asked athletes or celebrities for their autograph.
Over the years I have gotten a lot of autographs from professional athletes especially at Fenway Park. In fact long before when it was a big business and people were selling them for lots of dollars?
One of my most cherished autographs is actually from George Steinbrenner when I was an 11-year-old. I still remember meeting him while he was sitting in the owner's box (down low – row 1) at Fenway Park. He was having a conversation with Lou Piniella about the length of Lou's hair and George himself was very kind to sign for me. I still have the autograph and it still reminds me of all the great times I have had with my dad.
So I ask you:
Do you collect autographs?
What is the favorite one you have?
Are there times where you won't bother athletes/celebrities and respect their privacy?
Do you have a funny story you would like to share?
I really look forward to reading your comments.