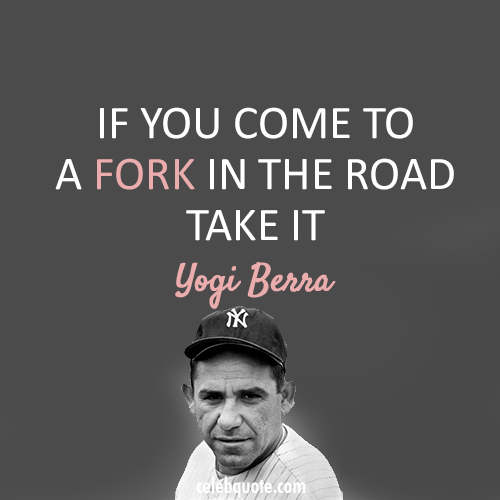 As you know I am not a fan of many New York Yankee players but I must admit I loved Yogi Berra and found him to be very funny! Unfortunately Yogi, at the young age of 90, passed away last week. In his memory I thought it would be very appropriate to share 20 of his more memorable quotes.
When you come to a fork in the road, take it.
You can observe a lot by just watching.
It ain't over till it's over.
It's like déjà vu all over again.
No one goes there nowadays, it's too crowded.
Baseball is ninety percent mental and the other half is physical.
A nickel ain't worth a dime anymore.
Congratulations. I knew the record would stand until it was broken.
You better cut the pizza in four pieces because I'm not hungry enough to eat six.
You wouldn't have won if we'd beaten you.
I usually take a two-hour nap from one to four.
The future ain't what it used to be.
We have deep depth.
Pair up in threes.
Why buy good luggage, you only use it when you travel.
You've got to be very careful if you don't know where you are going, because you might not get there.
He hits from both sides of the plate. He's amphibious.
It was impossible to get a conversation going, everybody was talking too much.
The towels were so thick there I could hardly close my suitcase.
I'm lucky. Usually you're dead to get your own museum, but I'm still alive to see mine.
Were you a fan of Yogi?
Did you find him as funny as I did?
Do you have a favorite Yogi quote?
I look forward to reading your comments.
P.S. Yogi was an 18 time all-star, appeared in 14 World Series and won 10 of them! What a special person and ambassador to the game!