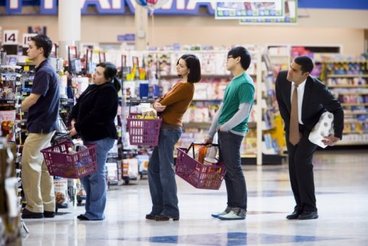 Let me know if this sounds familiar, you are in a retail or grocery store and you are headed for the checkout counter. There are 12 different choices some have long lines, short lines, and of course, the 10 items or less line.
As you survey the situation you notice you have 2 items in your basket and rather than standing in the express line you try and pick the line that will go the quickest! I am sure many of you are saying yes so far I can relate! For me, no matter what line I pick it seems to be the slowest for a wide range of reasons. Perhaps the cashier is slow or the customer needs to dispute an item that is priced incorrectly or forgets something and now has to go back to shop. Because I think I am really smart I then begin to get antsy and switch lines, every time making the wrong move!
Do you do the same thing?
Does everyone switch lines?
Do you think men switch lines more that women?
Do you make your choice and stay in that line no matter what?
I look forward to reading your comments.