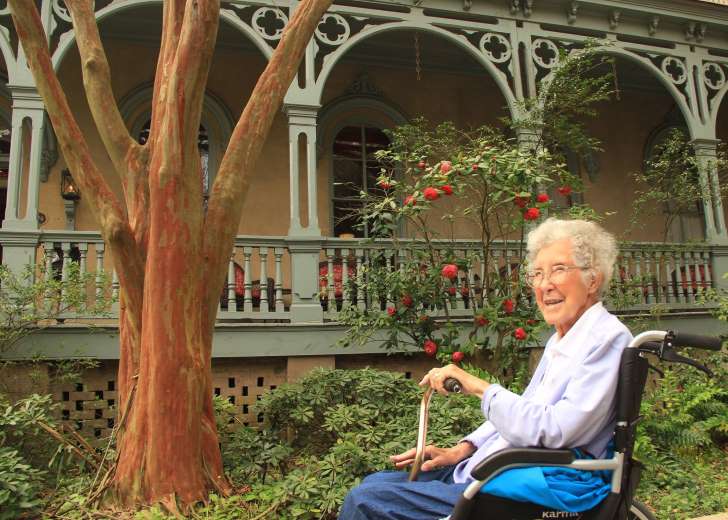 Sometimes total strangers touch your heart and that is what this story did for me. Even though I have never met Norma I love her smile and attitude on life. She is 90 years old and was married for 67 years. A few days after losing her husband she was diagnosed with uterine cancer. As she was speaking with her doctors, the next stop was surgery, chemotherapy, and radiation. Her response was "no – I am 90 and hitting the road."
She has decided to see places she has never seen – like the Grand Canyon and Mount Rushmore. She's doing things she's never done, like getting a pedicure and riding in a hot-air balloon. She's doing all of this instead of following doctors' orders.
And that is where Norma's adventure began.
Norma's son, Tim, and daughter-in-law, Ramie, had been spending their retirement touring the country in their RV. Instead of living the rest of her life in a nursing home, Norma decided to join them.
Tim, Ramie, Norma, and Ringo (Norma's very large poodle) are currently sharing an RV and many, many memories. They left Michigan in August and have visited over two dozen cities since, visiting popular tourist destinations like Old Faithful at Yellowstone National Park, strolling down Bourbon Street in New Orleans, and watching fireworks at Epcot Center in Orlando.
They have spontaneously joined a St. Patrick's Day parade in Hilton Head, S.C., collected seashells in St. Augustine, Fla., and met the Jolly Green Giant in Minnesota.
Norma's family is logging their adventure on a Facebook page called Driving Miss Norma.
I will be following Norma and her family on Facebook and hope you do as well.
In a world that most of the time is filled with rough and ugly stories, this is certainly one of the nicer ones!
If Norma was a reader of this blog where would you tell her to go?
Do you know other people like Norma?
Is life all about having the right attitude?
I look forward to reading your comments.