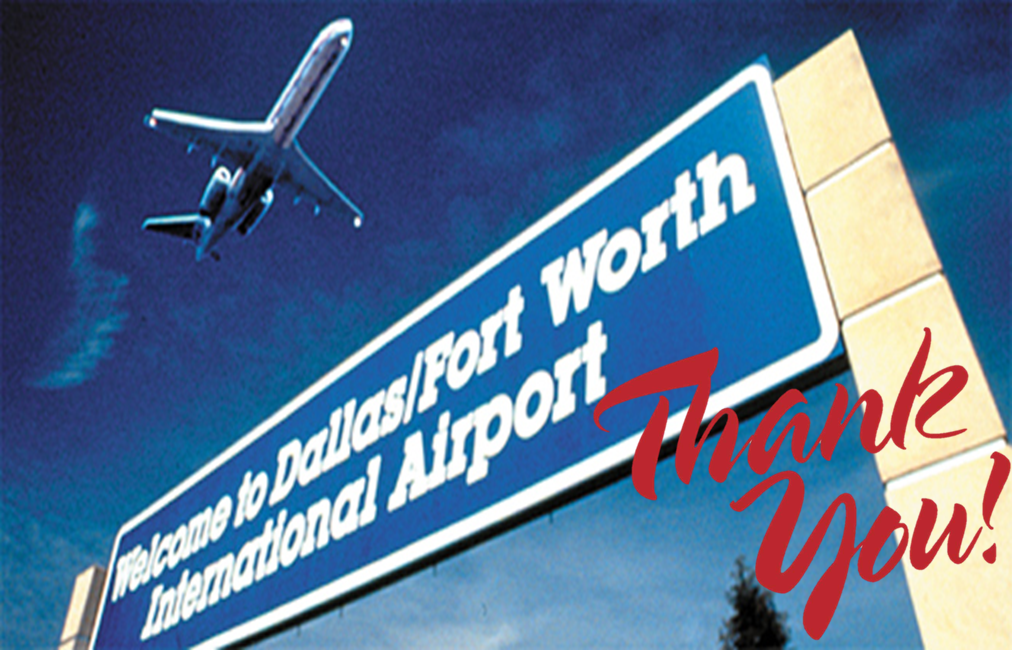 I am sure during the day all of us say thanks many times. For me, it could be a big thank you for waking up my kids and not having it take a long time or perhaps thanking a stranger for holding the door or thanking a cashier, waiter, or thousands of other examples.
Today's thank you is very different. Not sure I have ever done this. But here goes.
I want to thank DFW airport! I know you are probably saying to yourself why? What's wrong with him? If you were saying that I wouldn't disagree with you but hear me out for a minute.
I want to thank DFW Airport for a number of reasons:
For being smart enough to make it the most efficient airport I have ever traveled thru. Most airports are deep and you need to walk forever. Miami, Las Vegas to name a few. DFW is wide, has a ton of security checkouts, and typically the walk to your gate is less than 30 seconds.
The concourses are huge. Terminal D is so big and has to be 10 times wider than Logan Airport or any of the airports in the Northeast.
They are always looking to add relevant stores and restaurants. In the last six months they have opened a number of decent restaurants and the first ever 7 Eleven opened in an airport location.
And a huge thank you for somehow adding Coke as a beverage choice in vending machines, restaurants, and other stores. For as far back as I can remember the only place you could buy a Coke was at McDonalds and it was a fountain drink. That has all changed and I am really excited about that!
They are always looking for ways to make it an easier and nicer experience for their customers. Over the past few years they have renovated terminals and enhanced the parking experience with red/green lights about parking spots. If you see a green light there is a spot for you which really cuts down the wasted time to look for a spot and keeps the frustration level at a minimum.
So DFW Airport thank you on a job well down! Keep up the great work.
Would you like to take a moment and send out a non-traditional thank you?
What do you think about my thank you?
I look forward to reading your comments.