A few weeks ago there was a lot of interest in baseball because of the Jose Bautista bat flip retaliation from last October. To set the stage, the bad blood between the Rangers and Blue Jays goes back to the American League Division Series last season won by Toronto, in part, thanks to Bautista's three-run home run and subsequent bat flip in the seventh inning of Game 5. Yes the stage was at the highest level but (in my opinion) it was the worst bat flip in the history of baseball and really irritated a lot of players on the Texas Rangers.
Speed up to 7 months later. The Rangers hit Bautista, ground ball to Beltre, a low throw to Odor, a late slide by Bautista, a push, and the now famous punch by Rougned Odor. I love baseball but I am not a fan of brawls. Never have been and never will be. I am a huge fan of teams playing hard not dirty.
I understand there are a lot of creative people out there and I even thought myself that this might be an opportunity for a beverage called the Odor Punch. I was hoping not, but it did happen.
The Texas Rangers' farm team is selling a drink named after the Rougned Odor's punch.
The Frisco RoughRiders are selling a new energy drink containing alcohol called Rougie's Red Punch. It will be available for a limited time at Dr Pepper Ballpark's Bull Moose Saloon. It costs $5.15, which was the date of the punch and comes in a commemorative cup featuring an image resembling what the RoughRiders called 'Odor's iconic punch.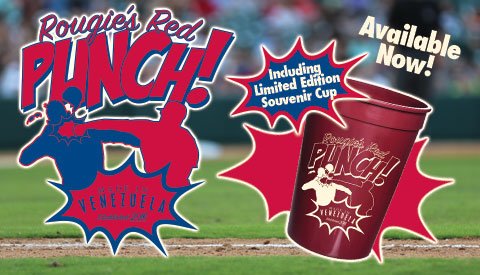 I realize that companies need to find a way to sell product but I really don't like this one. I believe this promotes something that shouldn't happen in baseball.
What are your thoughts?
Do you like the idea?
Do you like fighting in baseball?
Did you think the bat flip was overboard?
Was the retaliation right by the Rangers?
I look forward to reading your comments.