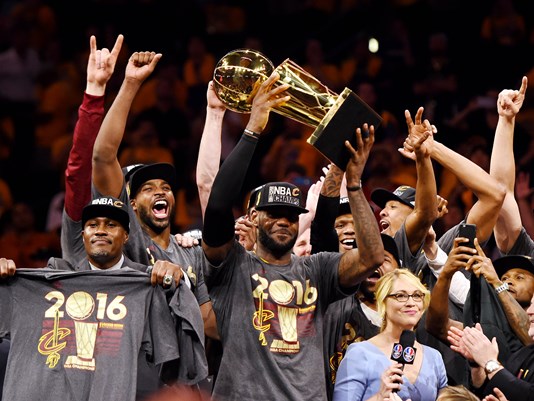 Here are 10 thoughts on what Cleveland winning the NBA Championship really means!
10. The Golden State Warriors choked.
9. Harrison Barnes has played his last game in Golden State.
8. The Golden State Warriors had the greatest regular season in the history of the NBA and that's all!
7. J.R. Smith just made a lot of money. Yes he will be leaving Cleveland and be the man in a new city and yes he will struggle.
6. Kevin Love has played his last game with the Cavaliers – he didn't play well, isn't worth the money and will be traded!
5. The parade on Wednesday in Cleveland will be special. They have waited a very long time for a championship and the fans will come out in droves.
4. The coaching change Dan Gilbert made in the middle of the season – was the right move for Cleveland.
3. Golden State really needs to concentrate on getting a solid big man for next year.
2. Curry & Thompson are amazing but every team now has a blueprint to beat them next year!
1. LeBron is amazing – he carried this team with his will & athleticism. His critics should all praise him now!
What do you think it means?
What do you think of my list?
I look forward to reading your comments.