Author Interview with Katya Andresen (Author of "Robin Hood Marketing: Stealing Corporate Savvy to Sell Just Causes")
January 19th, 2007
What was your motivation for writing a book?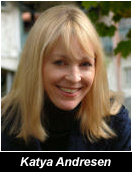 I wrote the book because I had something to say, and I felt passionately about it. I think that's important, because most writers (at least me) don't get a lot of external motivation -- we aren't going to make a fortune or appear on Oprah. So you need a lot of internal fire to fuel your project. I felt strongly that I wanted to help people with a cause to promote their issue far more effectively. Corporations shouldn't be the only ones who are savvy about winning people's hearts and minds. Charities should too. But we're not always good at it. In the nonprofit sector, we think that because our cause is worthy, people will support us. We equate a mission statement to marketing. Unfortunately, it's not that simple. We have to do less preaching and more promoting if we want people to support us.
What was the hardest part about the experience?
The hardest part, quite honestly, was getting up at 5am before work every day and facing down a blank computer screen. There were mornings I started rearranging my sock drawer -- literally -- when I was stuck. Fortunately, that task turned into one of my favorite chapters when I realized that Gold Toe socks provided a wonderful marketing analogy for my fourth chapter! When you're writing, everything in your life becomes material for your work. The next hardest part was realizing that halfway through the manuscript, I'd finally found my voice. I threw out the entire first half of the book, and I wrote it again in the right voice, with the right tone, content and structure. That was painful but correct.
How did you get a publisher?
I got an agent first, then a publisher. I got the agent by getting a personal introduction from another writer and presenting the agent with a strong book proposal that sold the concept.
What are the takeaways that you hope people get from reading your book?
I think I'd be happy if people remembered just one thing: to succeed in marketing a cause, you have to stop trying to get people to value your work and start showing how your work relates to their existing values. It's about connecting to the perspective of audience. It's so powerful to listen to another person and then relate to their world view. We forget to do that so often in our work and in our relationships.
What advice would you give a reader who was thinking about writing a book?
For nonfiction, do the book proposal first -- it will help ensure you have a book that the market needs, that has a keen focus, and that has a chance of seeing the light of day! A good proposal includes a pitch letter, a synopsis, an author platform showing why the writer is uniquely qualified to write and promote the book, a competitive analysis showing why this book stands apart, a table of contents, and a sample chapter. This exercise is very clarifying and gives you direction as you embark on the long, messy process of producing the final product.
Katya Andresen develops and executes Network for Good's marketing strategy, including consumer outreach, media relations and corporate partnerships. Before joining Network for Good, she was Senior Vice President of Sutton Group, a marketing and communications firm supporting non-profits, government agencies, and foundations working for the social good. As a marketing consultant overseas, Katya promoted causes ranging from civil society in Ukraine to ecotourism in Madagascar. She has trained dozens of causes in effective marketing and media relations, and her marketing materials for non-profits have won national and international awards. She is the author of the book, Robin Hood Marketing: Stealing Corporate Savvy to Sell Just Causes.
Katya traces her passion for good causes to the enormous social need she witnessed as a journalist prior to her work in the non-profit sector. She was a foreign correspondent for Reuters News and Television in Asia and for Associated Press, the San Francisco Chronicle and the Dallas Morning News in Africa. She has a bachelor's degree in history from Haverford College.